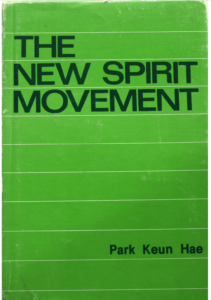 While poking around for English language materials to offer students on post-1945 South Korea, I came across The New Spirit Movement, a 1979 collection of short speeches by Park Geun-hye (Pak Kŭnhye, Park Keun Hae), president from 2013-2017 and thereafter convicted and jailed until 2021 on charges of bribery and various abuses of power. I believe the work is an English language edition of 『새마음의 길』published in the same year.
Park was daughter of the Korean president and dictator Park Chung Hee, who took power following a 1961 military coup and ruled as president from 1962 until his assasination in October, 1979. Her mother was also killed in 1974, after which the daughter stepped into something of a first lady role. One of the roles that Park Gyeun-hye embraced was as one of the leaders of a "New Spirit Movement" (새마음운동, also translated as New Mind, New Heart and New Spirtual Movement) in the late 1970s, a "vague and ineffective" campaign to "reform the thinking pattern of people."1
This vagueness can be seen throughout this collection of speeches. It reminded me of the kind of warm good feeling fluff I had seen in lots of materials of another more international movement, the Moral Re-Armament movement, as well as Chiang Kai-shek's "New Life Movement" (新生活運動), an observation already made by David Steinberg in a 1982 review article.2
In another 1980 piece discussing the movement, Hans U. Luther quotes one informant as saying "Not two persons could provide a definition for [the New Spirit Movement] that they would agree" and two others: "To the young female clerk at the post office, Saemaum is a term she could not being to define. But if she is asked what she did for Saemaum, she can tell about the flowers she helped to plant around the post office a month or two ago. To the taxi driver the Saemaum program might mean not spitting out the window of his vehicle."3
All About the 충효예 忠孝禮
So what does Park herself (or whoever composed the speeches) have to say about the movement in a book of some 130 pages (in the English version)?
Without a doubt the keywords in this "new" movement is a move to cultivate "traditional" values, the most important of which are loyalty (ch'ung 충 忠), filial piety (hyo 효 孝) and propriety (ye 예 禮). Anyone familiar with the history of the region will recognize here three of the key Confucian virtues, but one of the things I found interesting about this campaign and speeches is that, unless I'm mistaken, there is not a single mention of "Confucius", "Confucianism", or any specific Chinese classical text in the book. The closest it comes to this is, again vaguely, "The ways of chung, hyo and ye were expounded to the world by the sages of old" (120) and a mention of the Confucian scholar Yi Yul-gok (Yi I, 98). In contrast, a whole speech is dedicated to the compatability of the New Spirit Movement with Buddhism, as Park speaks to a hall of monks.
As the reader moves through one repetitive and vacuous speech on moral and spiritual reform to another, it becomes quickly clear that these three core concepts of loyalty, fillial piety, and propriety not only seriously overlap, but that they are such capacious concepts, that Park is able to fill them with almost anything.
Ch'ung is the key to an advanced nation, where "one can drink good coffee in any coffee shop" and ensuring that "when we make an appointment, the spirit of chung directs us to be there on time." (17) Hyo (at level of family and nation) seems to be the only thing that can give humans purpose: "Suppose a schoolchild gets 100 marks in an examination but has no parents or family to whom he can brag about his performance. Suppose a sports champion wins in a world competition but has no fellow countrymen with whom he may rejoice and no fatherland to which he may bring back the glory. Then, what is the good of the triumph?" (39) As for Ye, "it is an act of propriety to answer respectfully the call of one's parents and elders; it is an act of propriety to share food with a hungry person…keeping a promise is an act of propriety" (28).
Park doesn't seem to be too bothered by the fact that care for one's elders is sometimes filial piety and sometimes propriety; or keeping promises is sometimes about loyalty and sometimes propriety. In fact, in the speeches in the second half of the book, in the vast majority of cases, Park seems to give up disaggregating them entirely and merely refers to "chung, hyo and ye" or, sometimes, just the "new spirit" when she describes what virtue is manifest in an action. This new spirit calls on Koreans to suck it up and properly learn the honorifics of the Korean language. "Some say [they] are difficult to grasp. But I wonder if such people are not really shifting the blame from themselves to the language…If we are going to claim to be a cultured people, we should not expect everything to be simple." (77), to behave yourself when in a foreign country (79, 87), stop pollution (91-93), and reprimand naughty children (56). Fairly often, she seems to get bored by the specificity of the examples entirely, and will roll out broad generalizations: "Our Campaign for a New Spirit impels us to reflect on and remedy all wrongs in all areas of our life." (78)
Reading, or rather skimming, through these extremely repetitive speeches, one gets the impression you can tell more from the final lines of each speech that identify the audience Park is speaking to than anything else in them: ch'ung, hyo, and ye mostly become highly malleable containers for her to fill with whatever content best addresses whatever the message of the day is to a particular group.
Ironies and Aftermaths
In the relatively few places I have seen the 새마음 movement discussed, it has most often been connected as growing out of, or connecting to the much more famous "New Community Movement" (새마을운동). An interesting contrast can be seen between the New Spirit movement and Park Chung Hee's publications on the New Community movement, such as in the English edition of Saemaul : Korea's New Community Movement (1979) or his earlier musings in 1964 Our Nation's path; Ideology of Social Reconstruction, with their relatively more concrete political program and, in the latter case, a negative assessment of the role of Confucianism on Korea's past.
Unlike the more substantive debates on what was or was not an outcome of the New Community Movement, most of what I found in a cursory search doesn't suggest that this campaign amounted to much more than some big gatherings to listen to Park Geun-hye and line up to meet her. I see Park was involved in a 새마음 hospital of some kind, though I don't know what connections it has to the movement. One short piece suggests that the movement pops up again in a corporate setting in recent years.4
One irony of this moral reform movement is, of course, that rather than a paragon of moral virtue, Park came to personify corruption and the abuse of power. Her presidential record and the scandal that led to her eventual conviction has been explored in great depth by journalists, many of whom have looked back at her political career in the 1970s. Through our St Andrews library, I don't have access to Korean academic databases to dive deeper into the scholarly literature on the campaign, but the most detailed exploration of the New Spirit movement and its contemporary political connections I came across comes in a 2015 Hankyoreh piece which explored the New Spirit Movement in connection with debates on textbook reforms: 2015년 '새역사 운동' 뿌리는 1970년대 '새마음 운동' (IA) together with this 2014 OhmyNews piece: 새마음운동으로 유신독재의 주역이 된 박근혜 (IA)
The more direct connection between this 1970s campaign and Park's final years as president comes from the fact that a founding leader of the movement was the former colonial police officer and cult leader Ch'oi T'ae-min (최태민). Ch'oi had long exerted influence on Park, and, following Ch'oi's death, his daughter, Ch'oe Sun-sil (최순실), who was also a leader in the movement, played the most central part in the scandal that brought Park's downfall. This Korea Times article (IA) claims that the New Spirit volunteer organisation (새마음 봉사단) was created by Ch'oi T'ae-min in 1975 when he renamed an earlier National Salvation religious organisation (구국선교단) was renamed. I've seen a lot of different claims floating around about what, in practice, all these various 새마음 organisations (a hospital, a school, university organisation, buddhist group, and factory laborers) actually did in practice, other than line up in large numbers to hear Park's speeches, but I haven't seen all the evidence lined up myself. At the very least, the movement was a clear early example of bringing together these three figures. There is some nice footage (including two of the screenshots included above) in this news clip, 뉴스타파 – 최순실+박근혜 '40년 우정' 동영상 발굴 (IA), showing Park and Ch'oi Sun-sil together at a New Spirit Movement event at Hanyang University with a cameo appearance from former president Yi Myŏng-pak (이명박 Lee Myung-bak), who was also convicted for corruption and abuse of power.
The same year as the Hanyang University event in the clip, and only a few months before her father's assasination, Park's collection of speeches 『새마음의 길』(The Way to a New Spirit) was published, which I assume is the same work as the very rapidly translated New Spirit Movement. The leading conservative daily newspaper Chosun Ilbo reviewed the work in March (1979.3.10 p5), gushing with praise:
저자의 문장은 세련되어있 다. 저자의 話法은 有情의 對話와 같다.
전혀 구호나 이데올로기의 선전은 없다.

The author's style is refined. Their manner of speaking is that of a warmhearted conversation. The work is completely free of slogans or ideological propaganda.
In a way, I agree with this assessment. Relatively vacuous moral/spirital political campaigns such as the New Spirit Movement, Moral Re-Armament, New Life movements, etc., which thrived most in deeply anti-Communist contexts, as they yearned to generate enthusiasm for innocuous broad umbrella "Do good better best, like we used to, but in a fresh new way" campaigns. There were plenty of slogans in the campaign itself, seen on banners hanging all around Park when she gave these speeches, but like the speeches themselves, they had to be almost empty of meaningful concrete content that might generate controversy: the banality of moral reform campaigns seems here to be on full display.
---